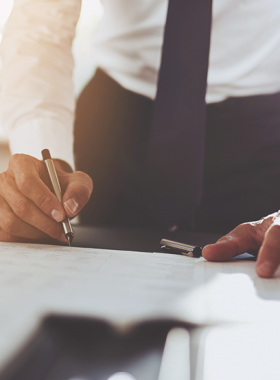 Practice Areas
Intellectual Property
Our clients' intellectual property needs can be fully met by Oklahoma counsel – we provide the highest-quality services available at significantly lower rates than firms located in regional financial centers.
Whether the need is for intellectual property counseling or litigation, our attorneys are well positioned to help you manage virtually any aspect of your IP portfolio.
Trademarks
It has been our experience that careful selection and protection of trademarks can provide a tremendous business advantage, so our attorneys maintain an active trademark litigation practice. Our attorneys are well-versed in the enforcement of trademark rights.
Copyright and Unfair Trade Practices
Our attorneys are also well-versed in copyright matters – they are available to assist our clients in enforcing copyrights for software, literature, music and more. Additionally, our attorneys have handled numerous matters involving unfair trade practices, including confidentiality, unfair competition, Lanham Act, trade disparagement and trade name issues.
Trade Secrets
Trade secrets often remain unrecognized as company assets until a problem occurs. In fact, trade secrets can be a company's most valuable IP – they can include processes, formulas, customer lists, business methods, marketing plans and more. Our attorneys are available to assist with all aspects of trade secret protection and exploitation, including counseling, preparation of employment, nondisclosure and licensing agreements, and – if necessary – litigation to enforce our clients' rights.
Technology Licensing and Transactions
We assist our clients by helping them establish corporate IP protection programs, create employment agreements, and assist in the acquisition and transfer of all types of intellectual property rights. Our attorneys also help structure acquisitions, development and license agreements, as well as enforce rights in computer-based innovations.
Intellectual Property Litigation
To protect and enforce our clients' rights, our attorneys take full advantage of extensive experience in litigating IP matters. From the U.S. Court of Appeals for the Federal Circuit, or even the U.S. Supreme Court, our attorneys have provided excellent cost-effective representation in all manner of intellectual property cases, including patents, trademarks, trade dress, copyrights, trade secrets and unfair competition.
We have extensive experience in all aspects of patent and non-patent IP litigation. When it comes to the complexities of patent litigation, our clients appreciate the advantage our attorneys' practical litigation experience offers at every phase of the undertaking, whether it's the initial complaint filing (or response to the same), argument of a temporary restraining order or preliminary injunction motions, document and testimonial discovery, oral and written motion practice, pretrial motions, trial on the merits, or appeals.