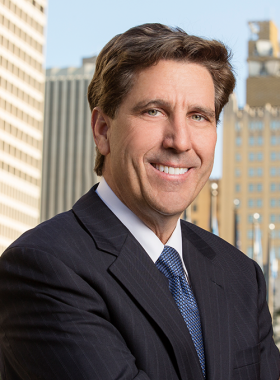 Mark K. Stonecipher
Mark Stonecipher's business litigation practice began in 1983 and emphasizes the areas of oil and gas, oil and gas service companies, environmental, land use, zoning, products liability, antitrust, and business defamation and disparagement. His intellectual property litigation practice emphasizes the areas of unfair competition, the Lanham Act, deceptive trade practices, trademark and trade dress, copyright, and patents.

Stonecipher's litigation practice, including trials, has been in Oklahoma, California, Florida, Alabama, Arizona, Arkansas, Iowa, Kansas, New Mexico and Texas.
Stonecipher serves his community as the Ward 8 representative for the Oklahoma City Council. He currently also serves as the vice mayor of Oklahoma City and is the owner of a small independent oil and gas company.
Education
Juris Doctor (The University of Oklahoma, 1983)

Oklahoma Law Review (editor, 1982-1983; note editor, 1983)

Bachelor of Science (Oklahoma City University, magna cum laude, 1980)
Bar Admissions
Professional Memberships
American Bar Association
Oklahoma Bar Association
Oklahoma County Bar Association
Ruth Bader Ginsburg American Inn of Court (2011-present)
Federal Bar Association (2013)
Awards & Honors
The Best Lawyers in America

Litigation-Trust and Estates (2014-2022)
Commercial Litigation (2021-2022)
Community Association Law (2021-2022)
Construction Law (2021-2022)
Land Use and Zoning Law (2021-2022)
Litigation - Trusts and Estates (2021-2022)

Super Lawyers, 2006, 2013-2014
Chambers USA, 2010-2011
Martindale-Hubbell AV Preeminent Ranking
Leadership in Law honoree, 2009
Outstanding Young Lawyer Award, 1990
Oklahoma Bar Association President's Award, 1989
Community Leadership
Oklahoma City Board of Adjustment

Board member (2011-2015)
Former chairperson

Gaillardia Community Association Inc.

President (2014-2015)
Former secretary

City Care

Board of Directors (2008-2013)

Whiz Kids

Board of Directors (2008-2013)

Quail Creek Homeowners Association
Oklahoma City Charter Revisions Committee

Mayor's Task Force (2008)

The University of Oklahoma College of Law Alumni Association
Oklahoma City University Alumni Association

Board of Directors (former member)

Quail Creek Golf & Country Club
Oklahoma Bar Association

Board of Governors
Young Lawyers' Division chair (1989)

Oklahoma County Bar Association

Board of Directors
Young Lawyers Division chair (1985)

Oklahoma Independent Petroleum Association
Oklahoma Bar Foundation

Board of Trustees (2000-2004)

American Bar Association

Young Lawyers executive counsel (1991-1992)

American Inns of Court XXIII (1987-1989)
Oklahoma Attorneys Mutual Insurance Co.
Representative Matters & Clients
Tarrant v. Capstone Oil & Gas Co., District Court of Kingfisher County, Oklahoma – As appellate counsel for oil and gas operator, reversed a $7.6 million jury verdict against an oil and gas operator and made significant law on the duties and obligations of an operator under a joint operating agreement
Wallace v. Martial Arts Enterprises Inc., American Arbitration Association – Obtained a significant arbitration award under the Lanham Act for trademark infringement and unfair competition
Martial Arts Enterprises Inc. v. Century Martial Art Supply Inc., American Arbitration Association – Successfully defended antitrust claims alleging MAP violations and internet retailer price discrimination
City of Norman v. Sutton Creek Dev. LLC, District Court of Cleveland County, Oklahoma – Obtained a 60 percent increase in an Oklahoma developer's condemnation award based upon an unlawful taking
Chesapeake Energy Corporation v. TXD Services LP, U.S. District Court for the Western District of Oklahoma – Represented a drilling contractor in a suit for breach of IADC Day Work Drilling contracts
Century Martial Art Supply Inc. v. The National Association of Professional Martial Artists and International Ikon Inc., U.S. District Court for the Western District of Oklahoma.
Articles & Publications
Real Property: The Stability of Riparian Land Titles and the Wild and Unruly Cimarron River, 36 Okla. L. Rev. 229 (1983)
Rev. of Handbook of Local Government Law by Osbourne M. Reynolds, 36 Okla. L. Rev. 249 (1983)
Essentials of Taking Depositions, Oklahoma Bar Association, Continuing Legal Education
Media Mentions
Cole, Carol L., "Sutton Creek eminent domain action going to jury trial," The Norman Transcript, Aug. 2, 2007
Cole, Carol L., "Sutton Creek developers file for summary judgment," The Norman Transcript, April 6, 2008