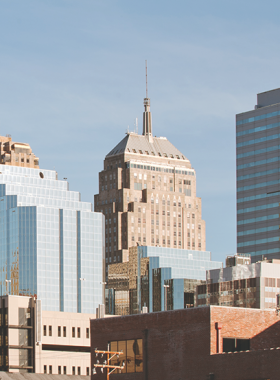 Disclaimer
Not Legal Advice
Fellers Snider and the "FS" logo are trade names for Fellers, Snider, Blankenship, Bailey & Tippens, P.C., an Oklahoma professional corporation. The information and materials made available on this website have been placed here for informational purposes only and are not legal advice. You should not take action based on anything you find here without first consulting legal counsel in your state familiar with the facts and circumstances of your particular situation.
The materials on this website may not reflect the most current legal developments, verdicts or settlements and should not be considered a prediction or guarantee of future results. There is no guarantee that these materials are correct, complete or up to date. Past success in litigation does not guarantee success in any new or future lawsuit.
No Attorney-Client Relationship
Receipt of information posted on the Fellers Snider website will not create an attorney-client relationship between you and this firm, nor will the act of sending unsolicited email to attorneys at Fellers Snider. If you are not currently a client of this firm, your email will not be privileged and may be subject to disclosure to others.
Links to Other Websites
Some links on this website may lead to other sites. Fellers Snider does not incorporate any materials appearing in such linked sites by reference, nor does the firm necessarily sponsor, endorse or otherwise approve of such linked materials, or any viewpoints espoused thereon. Any links to other websites are not intended to be referrals to or endorsements of those sites.
Other parties may provide links to this website. Fellers Snider cannot control, and assumes no responsibility for, the content of sites that link to this one, and it makes no warranties or representations whatsoever with respect to such sites.
Any trademark or trade name that is referred to within this website is assumed to be owned by its respective current owner.
Terms of Use
These terms and conditions may be changed by Fellers Snider with or without notice and shall be governed and construed in accordance with the laws of the state of Oklahoma. Your access to and use of this site constitutes consideration for your agreement to be bound by these terms.
Except where otherwise indicated, all text, all images, and the ordering, selection and arrangement of all materials appearing herein are © 2017 Fellers Snider. Images or text not owned by the firm are licensed specifically for use on this site. Reproduction of text, graphics or other materials found on this site is prohibited without prior written permission from the firm.
Your use of any portion of this website indicates your acknowledgement and acceptance of these terms of use, disclaimer and other posted notices. If you do not agree to be bound by and comply with these terms, you may not access or use this website.
Before You Contact Us
We would very much like to hear from you – we have provided phone numbers for our offices on our contact page, as well as the email addresses for many of our attorneys on their respective pages. However, do not under any circumstances send us information about any matter until we direct you to do so. We cannot represent you or hear any details of your case until we know that doing so will not create a conflict of interest for us.
If you have any questions about this website, the terms of this disclaimer or the confidentiality of any communication, please contact DeAnna Carter at DCarter@FellersSnider.com or 405-232-0621.