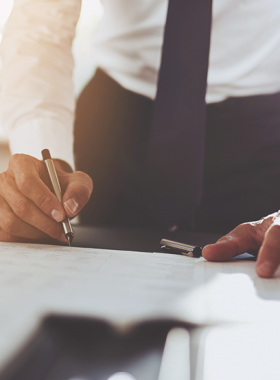 Careers
Frequently Asked Questions
How will an associate's practice areas in the firm be determined? 
Fellers Snider has a multitude of practice areas. Unless associates are hired for a specific area, practice areas are determined by the associate's interests and the firm's needs.
What kind of work are associates given when they begin? 
Fellers Snider prides itself on being one of the most established firms in Oklahoma. We provide new associates with the immediate opportunity to contribute to case strategies and perform real-life legal work. Our associates are never confined to only writing memos and briefs. At Fellers Snider, associates attend and conduct depositions, obtain courtroom experience, and work directly with clients and opposing counsel.
Is there a billable hour requirement for associates? 
Fellers Snider does not have a billable hour requirement. Our compensation structure is such that associates are able to share in a percentage of their profits. At Fellers Snider, we reward hard work proportionately.
What is the partnership track at the firm? 
There is no set timeframe for determining shareholder eligibility. Historically, associates are considered for shareholder status within five to seven years of joining the firm. This is evaluated on a case-by-case basis, and other factors are considered, including the prior experience of lateral hires. We have regular performance evaluations and enhancement training to enable associates to attain promotion to shareholder in a prompt and timely manner.
Does the firm hire laterally? 
Yes. To apply, contact our recruiting coordinator. We look forward to hearing from you.
Attorney Recruiting Coordinator
Fellers Snider
100 North Broadway, Suite 1700
Oklahoma City, OK 73102
Phone: 405-232-0621
Fax: 405-232-9659
Email: AttorneyRecruiting@FellersSnider.com
How does the firm generally hire associates? 
We hire the majority of our associates directly from our summer clerkship program. We primarily hire summer associates through on-campus interviews, which occur for first-year students in the early spring semester and for second-years in the early fall semester. However, you also can reach out to our attorney recruiting director – see the contact info above.
What does the firm's clerkship program entail, and how do I get involved? 
Our summer clerkship program is generally divided into two six-week periods separated by the Independence Day holiday. We generally hire four to six summer clerks from a pool of first- and second-year law students. We describe our summer program as a "working clerkship" in which we provide a working environment for law students to obtain practical legal experience. Students leave our six-week program with a good feel for what it's like to practice law at Fellers Snider – but like our actual practice, we mix this working environment with parties, shared meals and other opportunities to socialize and get to know our lawyers outside the four corners of our office.
To apply, contact our recruiting coordinator. We look forward to hearing from you.
Law Clerk Recruiting Coordinator
Fellers Snider
100 North Broadway, Suite 1700
Oklahoma City, OK 73102
Phone: 405-232-0621
Fax: 405-232-9659
Email: LawClerkRecruiting@FellersSnider.com