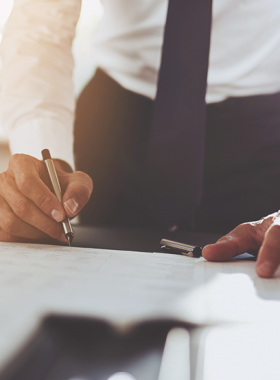 Practice Areas
Financial Institutions & Finance
Fellers Snider has vast experience in representing state and national banks with regard to commercial loan documentation, mergers and acquisitions, supervision and enforcement of banking regulations, employer/employee relations, and debt and equity financing.
Following widespread bank failures in the 1980s, we became one of the leading firms in defending directors of failed banks against litigation and claims asserted by the Federal Deposit Insurance Corporation. In the years since, our firm has been active in representing financial institutions faced with severe regulatory sanctions and penalties, as well as possible failure.
In addition, our attorneys have extensive experience in representing major lenders involved in loan participation and other transactions with failed institutions.
Fellers Snider represents financial institutions in structuring the acquisition of other financial institutions that have failed or are failing, and we represent bank holding companies in the acquisition of financial institutions and other business entities. We often serve as a business adviser to officers of banking institutions, and we handle major litigation for and against such institutions.
Our firm regularly prepares documentation for state and national lending institutions in their energy-related loans, real estate loans and other commercial loans of all types. We also serve as local counsel in major multistate lending transactions involving some of the largest national and international lending institutions. This representation can include review of loan documentation to determine compliance with Oklahoma law, rendering loan enforceability opinions and (in some instances) preparing portions of the loan documents, and performing due diligence for the borrower or the lender in regard to Oklahoma assets.


Representative Matters
Fellers Snider recently served as counsel to a bank making a major loan secured by mortgages in multiple states. A principal feature of the loan structure made certain Oklahoma income tax credits available to the bank.
During the 1990s, we served as general counsel for the receiver of the Federal Land Bank of Jackson in one of the largest federal receiverships of a financial institution ever conducted. In that regard, our firm was principally responsible for liquidating more than $2 billion of the bank's loan assets, as well as for handling the institution's complete liquidation.