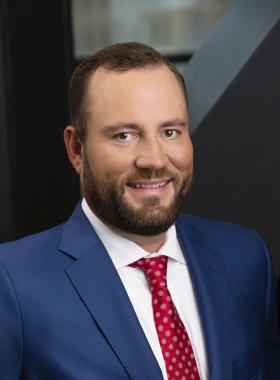 Michael A. Fagan
An accomplished attorney with over 15 years of experience in general liability and workers' compensation matters.
Who Will Defend Your Business?
Fueled by the thrill of the fight and reward of winning, Michael works tirelessly to protect companies against costly injury claims. As a workers' compensation benefit recipient himself from a young age due to the death of his father, it is his goal to ensure employees who are legitimately injured on the job get the benefits they are entitled to receive. He doesn't fight cases just for the sake of fighting, but he will vigorously defend cases that are not legitimate.
Michael is proactive and aggressive in reducing exposures. He forms a plan for defending a case based on a reasoned calculation of the exposures, risks, probability of success and costs.
Acute attention to detail and excellent communication are key attributes to Michael's practice. He is consistently available to his clients, keeping them apprised of the litigation progress and value-changing events.

Breadth of Experience
Prior to joining Fellers Snider, Fagan served as in house counsel for Liberty Mutual where his primary focus was on workers' compensation and litigation He took hundreds of cases to successful resolution. He obtained numerous trial defense verdicts and complete denials of cases in the Oklahoma Workers Compensation Court of Existing Claims. He also handled personal automobile and premises liability cases in state district court.
From 2005-2010, Fagan worked at Jones, Otjen and Davis, where he practiced complex civil and criminal litigation in state and federal courts. His practice included several jury and bench trials on matters ranging from federal bank fraud to forced corporate dissolution.
During law school, Fagan was a law clerk for the Law Offices of Stephanie Warmund, Liberty Mutual's field counsel office in Kansas City, which services Kansas and Missouri state and federal courts. While there, he assisted with general liability and workers' compensation matters in both states.

Outside the Courtroom
Michael enjoys spending time with his wife, Emily, who is an Assistant U.S. Attorney. They have two dogs, Fitzgerald and Madeleine. Michael enjoys golf, travel and snow skiing. So far, he has hiked 18 of Colorado's 58 fourteeners. He and his wife plan to watch the Chicago Cubs play in all 30 MLB stadiums.
Practice Areas
Litigation & Trial Practice
Workers' Compensation Defense
Education
Juris Doctor - 2007
University of Missouri-
Kansas City School of Law
Bachelor of Arts in Political
Science - 2004
The University of Oklahoma
Bar Admissions
Oklahoma - 2007
U.S. District Court of the
Western District of
Oklahoma - 2008
Memberships
American Bar Association
Oklahoma Bar Association
Oklahoma County Bar
Association
Community
Volunteer, Oklahoma
Mission of Mercy