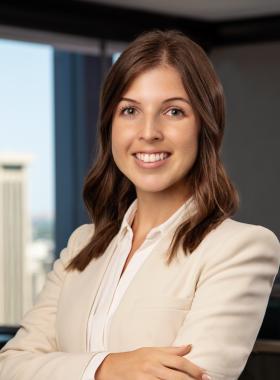 Paige P. Kemper
Paige Kemper is an Associate who graduated law school at the top of her class in 2022. She is a passionate advocate for clients' rights.
Paige Kemper has a particular interest in advocating for clients as they face challenges at all stages of general civil litigation, including contract disputes and complex business litigation.

She has assisted in proceedings before Oklahoma District Courts, the United States District Court for the Western District of Oklahoma, and the United States District Court for the Eastern District of Oklahoma.
Ms. Kemper received her Juris Doctorate as a Merit Scholar from Oklahoma City University School of Law, summa cum laude. During her time at Oklahoma City University, she received the CALI Excellence for the Future Award in Contract Law and Criminal Procedure. She was also distinguished on the Dean and Faculty Honor Rolls.
During her second and third years at law school, Paige worked as an Academic Fellow for Oklahoma City University, teaching first-year students in both Contract Law and Civil Practice and Procedure.
Outside the Courtroom

Paige has always been eager to be involved in the community. During her undergrad, she was an avid volunteer at both the Stillwater Mission of Hope Shelter and the Stillwater Humane Society.
Education
Juris Doctorate, Oklahoma City University School of Law, 2022
Summa Cum Laude
Bachelor of Arts in Philosophy, Oklahoma State University, 2019
Magna Cum Laude
Bachelor of Arts in Political Science, Oklahoma State University, 2019
Magna Cum Laude
Bar Admissions
Oklahoma, 2022
Awards & Honors
CALI Excellence for the Future Award in Criminal Procedure
CALI Excellence for the Future Award in Contracts Law
Academic and Athletic Scholarships
Dean's, President's, and Faculty Honor Rolls
Big 12 Conference Dr. Gerald Lage Academic Achievement Award
Student-Athlete Academic Achievement Award