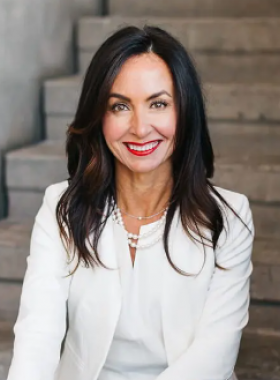 Lezel Cunningham Safi
Doing the right thing by living with purpose, passion and progress.
Why Lezel Safi is unique...
What makes Lezel different than any other family law attorney is her holistic approach working with clients. She believes addressing the "whole person" is critically important for those navigating incredibly difficult moments in life.
The concept of holistic law is how Lezel guides her clients through the financial, mental, emotional, physical and spiritual aspects of a personal legal problem. She knows and has seen how this powerful approach provides long term success for her client and their family.
Safi provides a human connection to personal legal issues by combining passion, understanding, attention and counsel.
"In the grand scheme of things, getting someone divorced by a piece of paper is the easy part," Lezel states. "I want my clients to look down the road about where they will be in 6 months from now. Are you able to go back to school? What are your dreams, and how can we get you there? It's not just a divorce - there's a mental and financial component of it, as well as the physical portion."
She believes that by providing counsel and advice to her clients on resolution and settlement, they can make better long-term decisions and outcomes for themselves and their family.
However, when certain situations and facts lead her clients down a path of litigation, Safi will fiercely, ethically, and passionately advocate for them.
Her core values of honesty, integrity and knowledge benefit her clients around the settlement table as well in the courtroom.
Practice Areas
Estate Planning, Probate & Trusts
Education
Lezel holds a Juris Doctorate from Oklahoma City University School of Law, a Master's in Business Administration from Oklahoma City University, and her Bachelors of Science in Design, Housing & Merchandising from Oklahoma State University.
Community
Lezel maintains active volunteer roles in the Oklahoma City non-profit community with the CARE Center Board of Directors, Rainbow Fleet Child Care Resource Center and Early Childhood Center Board of Directors, Member of Class 38 Leadership Oklahoma City, United Way Women's Leadership Council, and Club 29 Downtown OKC Rotary International Member, serves on the Palomar Legal Network Committee, and serves as the Program Administrator for the William J. Holloway, Jr. American Inn of Courts.
Memberships
American Bar Association
Oklahoma Bar Association
Oklahoma County Bar
Association