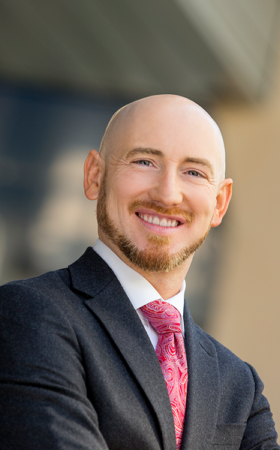 Klint A. Cowan

Klint A. Cowan
Klint Cowan is a civil litigator who practices in the fields of federal Indian law, gaming, election law and business law. He has handled numerous gaming law matters and has represented clients before federal agencies such as the National Indian Gaming Commission and the Office of Indian Gaming. In addition, he works with tribal entities to procure financing for gaming facilities and related developments through various methods, including tax-exempt bond issuance, vendor financing and bank loans.
Cowan serves as a Justice for the Wyandotte Nation and as Special Municipal Judge for the City of Oklahoma City.
Education
Bachelor of Civil Law (University of Oxford, with distinction for dissertation, 2005)

Commonwealth Law Journal (associate editor)

Juris Doctor (University of Tulsa, with highest honors, 2004)

Energy Law Journal (executive articles editor)

Bachelor of Science in Geology (Antioch College, 1998)
Bar Admissions
Oklahoma, 2004
Muscogee (Creek) Nation
Osage Nation
Various other tribal courts in the State of Oklahoma
U.S. District Courts for the Western, Northern and Eastern Districts of Oklahoma
U.S. Court of Appeals for the 10th Circuit
U.S. Court of Appeals for the 5th Circuit
U.S. Supreme Court
Professional Memberships
Oklahoma Bar Association

Evidence and Civil Procedure Committee (2012-2013)

Muscogee (Creek) Nation Bar Association
American Bar Association

Native American Resources Committee (vice-chair, 2006–2011)

Ruth Bader Ginsburg American Inn of Court, Oklahoma City (2006–2008)
Phi Delta Phi (2002–2004)
Awards & Honors
Best Lawyers, Lawyer of the Year

Native American Law – Oklahoma City, 2015, 2017, 2019, 2022

The Best Lawyers in America, 2015-2022
2010 Maurice Merrill Golden Quill Award, Oklahoma Bar Association
Super Lawyers, 2013-2018

Super Lawyers Rising Stars, 2010-2012

The National Trial Lawyers, Top 40 under 40, 2012
Community Leadership
Teen Recovery Solutions (Board of Directors)
Oklahoma Lawyers for Children (Legal Volunteer)
Bricktown Rotary (2012-2104)
Representative Matters & Clients
Cowan's work in financing for tribal projects has included:
Assisting a tribal gaming entity in obtaining financing for construction and development of a new casino.
Counseling a tribe on refinancing debt for the construction and development of casino projects.
Drafting and negotiating contracts between lenders and tribes.
Developing request for proposal (RFP) materials for hotel financing, as well as reviewing and advising on submitted proposals.
Additional matters:
Comanche Nation v. U.S. (W.D. Okla. 2008) – Resulted in an injunction protecting a tribal sacred site.
Berry v. Comanche Nation Casino, (W.D. Okla. 2010) – Successfully removed tort claims arising in Indian country to federal court.
Muhammad v. Comanche Nation Casino (W.D. Okla. 2010) – Obtained an order prohibiting the state court from exercising jurisdiction over an Indian country tort.
Osage Nation v. Oklahoma (W.D. Okla. 2010) – Secured a permanent injunction prohibiting Oklahoma courts from exercising jurisdiction over Indian country torts.
Advised on tribal elections.
Experience
Hobbs, Straus, Dean & Walker LLP, Oklahoma City (associate)
Boesche Legal Clinic, Tulsa, Oklahoma (law clerk)
Articles & Publications
Marijuana and Tribes, Journal Record (Feb. 25, 2015)
Diversity Requires More American Indian Lawyers and Judges, Oklahoma Bar Journal (May 17, 2014)
Making the Grade for the Public Good, Journal Record (Mar. 6, 2014)
IRS May Spur Renewable Energy Development in Indian Courntry, Journal Record (July 15, 2013)
Rules of Gaming, Journal Record (Jan. 4, 2012)
Native American Resources Annual Report (2006-2010), American Bar Association Section of Environment, Energy, and Resources Law

2010 Annual Report, Year in Review 239 (2011) (with C. Rogers et al.)

2009 Annual Report, Year in Review 250 (2010) (with D. Pensley et al.)

2008 Annual Report, Year in Review 255 (2009) (with D. Suagee and D. Pensley)

2007 Annual Report, Year in Review 252 (2008) (with D. Suagee)

2006 Annual Report, Year in Review 266 (2007) (with D. Suagee)

Tribal Sovereignty v. State Court Jurisdiction, 81 Okla. B.J. 351 (Feb. 13, 2010)
International Responsibility for Human Rights Violations by American Indian Tribes, 9 Yale Human Rights & Dev. L.J. 1 (2006)
Note, Transmission Agency of Northern California v. Sierra Pacific Power Co., 24 Energy L.J. 365 (2003)
Mass Equivalence and Brecciation in the Mt. Padbury Mesosiderite, Lunar and Planetary Science XXIX, 1194 (1998) (with T. McCoy)
Speaking Engagements
Because of his tribal law experience, Cowan has been invited to speak on several occasions, including the following:
Jurisdiction in Indian Country, Muscogee (Creek) Nation 8th Annual Doing Business in Indian Country Conference, Tulsa, Oklahoma (May 20, 2010)
Protecting Sacred Sites: Comanche Nation v. United States, University of South Dakota Law Review Symposium, Twentieth Anniversary of Employment Division v. Smith (Feb. 18, 2010)
Transacting with Indian Tribal Governments, Indian Gaming Seminars in Tulsa and Oklahoma City, Oklahoma Bar Association (Nov. 6 and 13, 2008)